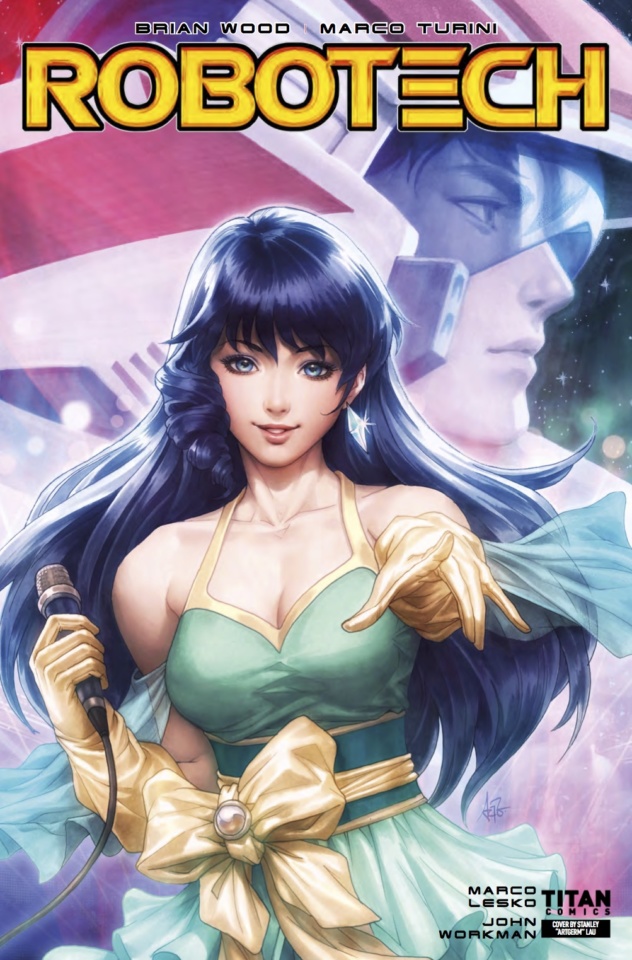 By Matt Vroom
Robotech #1 is the very exciting first issue in a brand new comic book series from Titan Comics. It's written by Brian Wood, with art done by Marco Turini. It will be available on Comixology tomorrow (August 2, 2017).
This comic book is based on the uber-famous property of the same name. It was originally adapted as an anime series that debuted in the United States in 1985. It has a massive fan base, and has had many comic runs in the past with major companies such as Wildstorm, Dynamite Entertainment, and now with Titan Comics.
Here the official synopsis:
Not just another retelling of the Macross saga …

In July, the story continues as we bring Carl Macek's original vision full circle. Taking into account every iteration of the series, this new Robotech #1 casts a fresh eye over classic characters like Rick Hunter, Lisa Hayes, Lynn Minmei, Roy Fokker, Claudia Grant, and Henry Gloval. Brian Wood and Marco Turini take us back to a Macross Island where *nothing* can be taken for granted.
This comic was a breath of fresh air. It was the perfect combination of great story telling and expressive art. The issue grabs at you from the very first page, and you will be asking for the next issue immediately after reading the last.
This book is also great for those readers who are new to the property (as I am.) When I have ever talked about Robotech in the past, I always just thought that it was a Transformers knock-off. However, this issue proved me wrong.
This comic is also great for those long time fans who have spent many years with these characters. I feel like this comic pays respectable homage to the source material, and builds upon the lore that has already been established.

Robotech #1 is the reboot that we all deserve, and the one that Hollywood should emulate. I give this a 10 out of 10 capes, because honestly this was such a great comic book.
If you guys have a comic that you would like us to review feel free to email Matt at hello@mattvroom.com, or Dave at dave@superherospeak.com.
---
Matt Vroom – Co-host, Content Creator, and Comic Reviewer for SuperHeroSpeak.com.
Follow Matt on Twitter: @themattvroom
See Matt's Comic Book Work: www.vroomation.com
For latest news for Super Hero Speak, follow us on Twitter: @superherospeak
or Facebook: @superherospeak