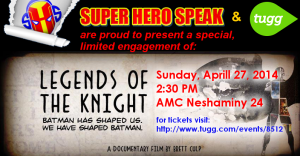 Super Hero Speak is proud to present for one night only Legends of the Knight! 
If you guys remember back in episode 45 we interviewed Brett Culp the film maker behind the inspirational documentary Legends of the Knight. And as you all remember we promised you that we would have the movie played in the Philadelphia area? Well here it is:
If you live in the Philadelphia area and would like an opportunity to see the film Legends of the Knight head on over to our Tugg event web page and buy your tickets now! A percentage of the proceeds will be donated to the National MS Society. So come out to the show and support a great cause! Plus the hosts of Super Hero Speak will all be there so you will get a chance to meet us all!
So please come out, have fun seeing a great movie and help fight MS!...
Read More