Podcast: Play in new window | Download
Is Marvel trying to copy the success of DC's New 52 with their Secret Wars event this summer? Is Marvel trying to align the comic books with the movie universe? Is Marvel just really out of ideas so they are just rehashing some of their biggest events? Well this week Dave, Ben and John joined by 2 very special co-hosts, Frank Duran of Real Books Don't Have Batman and Johnny Fournier of Sumptin – Sumptin, explore these very questions. We may not find the answers, but the journey is always fun, enjoy!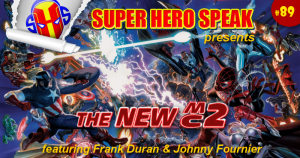 Check out RBDHB here: https://soundcloud.com/yupfrank
Check out Sumptin – Sumptin here: https://soundcloud.com/sumptin-sumptin
Please take a moment to help out artist Tommy Castillo: http://www.youcaring...
Read More