Podcast: Play in new window | Download
This week Dave sits down with Mike Dean and Tim Radecki, they creative minds behind Super-Bud. The comic that dares to ask the question what would happen if a group of stoners smoked a strain of weed that gave them super powers? A great independent comic with a fun micture of comedy and action. One of the best independents we've read in a while. So sit back and enjoy, and when you finish listening please take a moment to check out and support their kick-starter. If you can't give money spread the word on this new and unique comic book!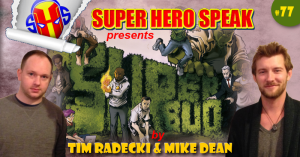 Super-Bud on Facebook: https://www.facebook.com/SuperBudComics
Super-Bud on Twitter: https://twitter.com/SuperBudComic
Super-Bud's Kick Starter: https://www.kickstarter...
Read More