Podcast: Play in new window | Download
This week Dave and John sit down with Firestorm Comics' Brad Linder. Brad tells us all about Firestorm Comics and their first title ready to be launched CatMan. Based on the original Catman published in the 1940's by Holyoke Publising,but this Catman is a new take on the original. After listening to this episode please take a moment to help support their KickStarter. Enjoy!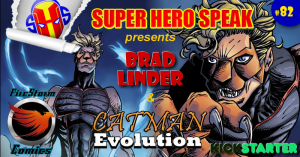 Support the CatMan Kickstarter here: https://www.kickstarter.com/projects/1644403567/catman-evolution-1-kickstarter-special-edition
Check out Firestorm Comics here: http://firestormcomics.com/
Follow them on Twitter here: https://twitter.com/FireStormComics
And like them on FaceBook: https://www.facebook.com/FireStormComics
#stumpthegeekspeak question from last week...
Read More