Podcast: Play in new window | Download
Subscribe: iTunes | Android | RSS | More
In their second episode from Wizard World Philly 2017 the guys bring you three more great interviews. This episode features interviews with Maxina Storibrook (Danarko), Casey Caracciolo (The Shadow of the Gauntlet) and Richard Rivera (Stabbity Bunny). There are plenty more episodes from the con to go and don't forget to check out our new Teespring shop while you are here. So sit back and enjoy!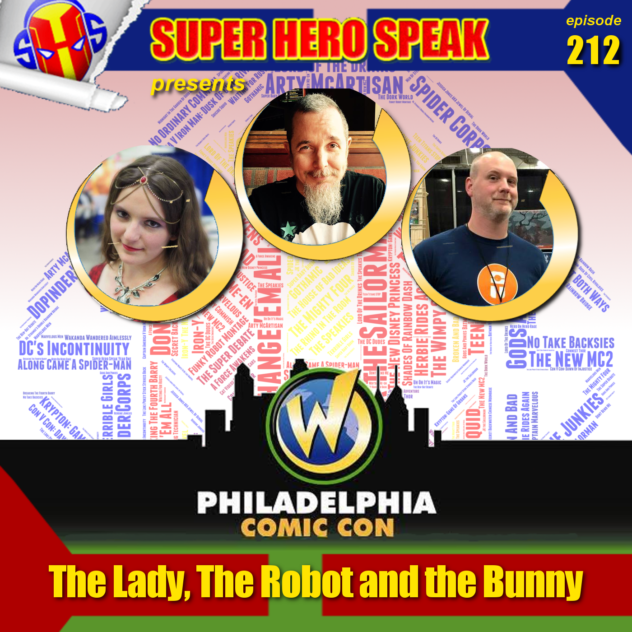 Maxina on Twitter: https://twitter.com/max_stori
Maxina on Amazon: https://www.amazon.com/Danarko-Book-One-Maxina-Storibrook-ebook/dp/B06W559SFQ
Maxina on GoodReads: https://www.goodreads.com/maxinastoribrook
Maxina's website: https://www.maxinastoribrook.com/
Casey on Twitter: https://twitter.com/caseycaracciolo
Casey's website: http://www.scargen.com/
Richard on Twitter: https://twitter.com/StabbityBunny
Stabbity Bunny Website: http://stabbitybunny.com/
Support us by buying a really cool T-Shirt: https://teespring.com/stores/super-hero-speak
Support us on: Patreon: Become a Patron!
Join the conversation on Slack: https://shs-slack-signup.stamplayapp.com/
Follow us on Twitter: https://twitter.com/SuperHeroSpeak
Like us and leave feedback on Facebook: https://www.facebook.com/Superherospeak
Subscribe to
Super Hero Speak
Or subscribe with your favorite app by using the address below